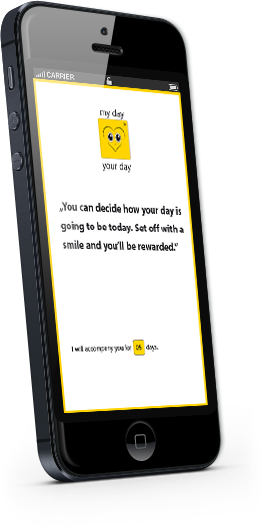 The APP, that changes your life!
every day a positive message
great tips for your everyday life
phrases and thoughts
100% self-written
You will receive a new message from me every day, that will change your life in a positive way. I will help you to remember different things, I will give you tasks, that you can solve and I will accompany you in your everyday life with advice and great tips. All phrases and thoughts have a positive input and are based on my own experiences. I write them by myself and besides, you are always the focus. Day after day, as an affirmation-app, I'll change your thoughts and feelings in a positive way.
Positive thoughts, tips and phrases for your everyday life
Here you can find a lot of motivating phrases, that I personally wrote for you especially. A good phrase to start the day, a heartfelt, positive message, a challenge in the form of a small task or a great task of the day help to shape your life in a positive way.
Change your everyday life and get joy and positive feelings in your life
Faithful to the motto "think positive", my advice and tips will change your life in a positive way. Whenever you have the feeling, that you need motivation or help, pick up your cellphone and read what I have written for you. Live in the present. Use the energy of the universe, draw strength from happy moments an discover every day how valuable your life is. Do it for yourself!
Motivation is everything! Make my day become your day!
You are the one that can change everything, you by yourself can make your life become better and more positive and I can and want to accompany you. If for one day, one week or one month - you can decide by yourself. Every day, I have a new message, a new phrase or a new task for you. Figure out, what you like, believe in yourself an let me help you to remember every day...
Choose my affirmation-app and become a positive thinker!
Whereever you are, no matter in what situation you are - you only live once and every day contains the chance to become the best day of your life. Thoughts become feelings and feelings become actions. Have the courage to walk your own path and to believe in yourself and your dreams. A positive attitude, a smile or a friendly word cause real miracles. Let me motivate you! Start now an let me accompany you. Every new day starts with good thoughts, a positive message or a valuable memory.
---